How can the M&E industry reduce carbon emissions whilst delivering building services on time and within budget?
In 2016, the 'Paris Agreement' document was signed and with it an agreement to reduce carbon emissions to 'net-zero' by 2050 (UN, 2020). The UK's government and 110 other countries signed up to the agreement. Since then, the UK government has written several advisory reports (Construction Playbook, 2020) outlining how the construction industry can achieve the 'net-zero' emissions target by 2050.
For M&E subcontractors, who are often managing multiple projects with tight deadlines, delivering net-zero carbon emissions in all operational buildings by 2050 seems an optimistic target. Can it be achieved? and if it can, what steps can the M&E industry take to help meet that aim.
In this blog we will explore the following topics:
What is the net-zero 2050 carbon emissions law?
How will it

affect

the

stakeholders

within the M&E industry?
What are the key barriers

to overcome

to achieve

the net-zero 2050 target?
How can MIDFIX help M&E contractors to achieve the net-zero 2050 target?
What is the net-zero 2050 carbon emissions legislation?
In 2019 the UK government passed legislation to reduce the UK's net emissions of greenhouse gasses by 100% and with it making the UK a 'net-zero' emitter by 2050. One of the largest contributors to greenhouse gasses is the building and construction industry.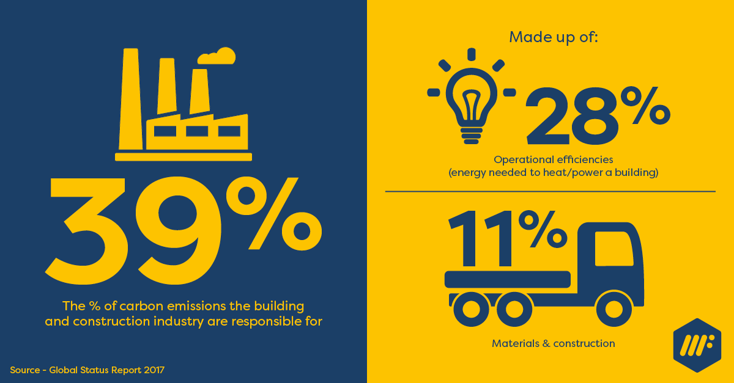 'Carbon emissions output for the building and construction industry' – Global Status Report 2017
Which stakeholders within the M&E industry will be affected?
Clients and principle/main contractors
The net zero target will have the biggest impact on the principal contractors because clients are now insisting that buildings meet the new carbon-emission standards. By 2050 it will be a legal requirement for a principal contractor to prove that all their building materials on-site omit zero carbon emissions.
Mechanical & Electrical subcontractors
Building services contractors need to consider carbon-friendly initiatives, such as reducing material waste and minimising deliveries onto the site. In most cases building services contractors have two main priorities.
To deliver the electrical and mechanical packages on time and to the highest standard, without incurring a fine.

To deliver the electrical and mechanical packages within a set budget
Both priorities will need to be examined to achieve carbon-friendly projects.
Service engineers/On-site installers
Service engineers and on-site installers need to be adequately trained to understand how to correctly install products to reduce the on-site carbon footprint.
Buyers
A buyer will have to widen their search and understand the carbon footprint of each service before a purchase is made.
What are the key barriers to overcome?
According to the committee of climate change there a few barriers to overcome.
Government policy must be fully funded and implemented coherently across all sectors of the economy including construction

The funded

programmes should drive the necessary innovation, market development and positively encourage consumers to take up low-carbon technologies

For

a main/

principal

contractor costs will play a part

–

building services

on-site

have a big outlay

, the cost savings of employing carbon-friendly initiatives need to be widely shared

Time – both

principal

contractors and on-site service engineers have tight deadlines

,

they will need to know how a carbon-friendly approach can save time

.

Communication

–

patchy

communica

tion between a manufacturer of a

specific

product and the

subcontractor responsible for the

mechanical fixing package
How can MIDFIX help M&E contractors achieve net-zero emissions by 2050?
MIDFIX are experts in onsite and offsite supports for the mechanical and electrical industries, delivered through design, engineering, fabrication, and industry training.
We supply a variety of innovative products that support building services contractors complete their projects efficiently. Below are just a few key products we supply that can help reduce the carbon footprint of a construction project.
Bracket support
MIDFIX are the UK largest supplier of Sikla Framo, the modular secondary steelwork offers numerous environmental benefits for contractors helping to meet the net zero target;
Decreased onsite deliveries – reduction in carbon emissions from onsite deliveries

When compared to other secondary steel, Framo

has a higher safe working load – leading to less waste of materials

Reduced carbon footprint due to the fact there is a large amount of stock held in the UK

As it is simple to assemble there is no need to have

skilled labours on-site

– once again reducing the overall project's carbon footprint

Reduction in installation time
Wire/rope suspension systems
In its most basic form, the wire/rope secures the load of a product which is suspended from a ceiling or iron girder.
When specifying a large quantity of wire across a construction project, there are clear environmental benefits that can contribute to lowering carbon emissions.
Faster installation times. Approx. 6 times faster to install than traditional systems

Requires less materials, system comes complete, reducing material waste

Carbon footprint reduced as it is easier to store and transport onto site
Threaded rod v Wire Suspension carbon emissions:
"One container of 2mm wire with a total length of 1.44million, in order to get the same length and load bearing capacity you would need 32 containers full of 10mm rod" saving on deliveries to site and carbon emissions.
Let's look at a recent case study from Zip-Clip – A typical retail park uses approximately 1200 drops at 2m (2,400 metres in total)
M8 rod would weigh 748.80kg and use 1344kg of CO2 to produce the 2,400 metres required.
The Zip-Clip wire system would weigh 37.86kg and use 96kg of CO2 to produce 2,400 metres.
Save on weight: 710kg
Save on CO2: 1245kg
This product swap may help to reduce the carbon emissions from materials used for construction.
Pipe insulation clamps
MIDFIX supply a comprehensive range of pipe insulation blocks such as Kooltherm insulated pipe supports. These insulated pipe supports provide a continuous vapor barrier or below ambient systems and thermal analysis of +75°C LTHW system to BS EN IS0 10211:2007. Detailed analysis shows that the Kooltherm insulated pipe support inserts can reduce heat loss by up to 4x more than alternative rubber lined pipe clips, five times more than metal pipe clips and an incredible ten times more than hardwood pipe support inserts.
This product swap may help to reduce the carbon emissions of the day-to-day building operations due to increased thermal efficiency.
Design, Fabricate, Manufacture & Assemble
Our in-house fabrication workshop manufactures bespoke supports and bracketry. Our skilled engineers, fabricators and welders can help you with:
Channel Cutting

MMA/MIG/TIG welding

Laser cutting and folding

Component Assembly

Drilling and tapping

Painting

Galvanising
Due to our unique capabilities in-house, M&E contractors do not have to use multiple sources to complete their M&E projects.
Our channel-cutting services reduce the amount of on-site packaging and wasted materials helping to contribute to lower carbon emissions.
QMEXX – MODULAR PIPE SUPPORT SYSTEM
For the water industry, specifying traditional welded supports for above ground pipework can be a frustration. Traditional welded supports often arrive incorrectly sized for the pipework install and often without the ability to modify or adjust on-site. Both issues cause carbon emissions to increase, due to materials wasted and the number of deliveries on-site. A better solution would be to specify QMEXX – modular pipe support systems.
QMEXX is a range of modular off-the-shelve components designed to support above ground pipework. With our in-house structural engineers, we can outline the optimal number of above-ground pipe support needed for the water treatment site. As a result of this, our team can specify the right amount of QMEXX supports required, reducing overall material wastage and deliveries on-site.
Benefits of QMEXX pipe support system:
Height adjustable and adaptable on-site

Available off-the-shelf

Minimal installation time

Up to 80% lighter than traditional pipe support components

Corrosion protected

Instantly manufactured on-site

Backed with a straightforward load rating
Ultimately specifying QMEXX can reduce the carbon footprint of the overall project and help contractors reach their net zero 2050 goal.
Overall, each and every stakeholder within the M&E industry will play an important role to reduce carbon emissions. For M&E contractors who are often facing tight deadlines and installation challenges, employing sustainable practices and opting for carbon friendly products can save time and money, helping to achieve net-zero carbon emission buildings by 2050.
REFERENCES & FURTHER READING
Climate Change Committee: https://www.theccc.org.uk/uk-action-on-climate-change/reaching-net-zero-in-the-uk/
World Green Building Council: https://www.worldgbc.org/news-media/WorldGBC-embodied-carbon-report-published#_ftn1
World Green Building Council [Embodied carbon call to action report] https://www.worldgbc.org/embodied-carbon (2019)
https://www.un.org/press/en/2020/sgsm20411.doc.htm (UN, 2020)