1st January 2019: BS 7671:2018
1st January 2019 was an important day for MIDFIX, it was on this day that the BS 7671:2018 – the 18th edition of the IET wiring British standard regulations came into force. The British Standard covered all of the design, installation, and testing of electrical installations in the United Kingdom.
What is the BS 521.10.202 18th edition of the IET wiring regulations regulation?
Chapter 52 Selection and Erection of Wiring Systems:
Regulation BS 521.10.202 states 'Wiring systems shall be supported such that they will not be liable to premature collapse in the event of a fire' - the 18th edition introduction makes clear this now applies throughout the installation and not just in escape routes as in the previous edition.
Why were the regulations created?
In response to a number of fatal, fire-related incidents where persons, including firefighters, have been entangled by falling cables, the intent of this regulation is to prevent the possibility of cables collapsing prematurely in the event of a fire and becoming a hazard to evacuation and fire-fighting.
What are the key highlights from the regulations concerning cables and their installation?
MIDFIX have produced/created an informative 'Guide to Fire Resistant Cable Fixings' which clearly explains the regulation and the 3 key guidance notes.
Note 2: Cables installed in or on steel cable containment systems are deemed to meet the requirements of this regulation.
Note 3: This regulation precludes, for example, the use of non-metallic cable clips or cable ties as the sole means of support where cables are clipped direct to exposed surfaces or suspended under cable tray, and the use of non-metallic cable trunking as the sole means of support of the cables therein.
Note 4: Suitably spaced steel or copper clips, saddles or ties are examples that will meet the requirements of this regulation.
For a complete summary of the key points within the regulation then please visit IET, who have produced a useful document.
Are Plastics Banned?
Plastics cable fixings have not been banned, it's just that they can no longer be used as the sole method of supporting cables.
What does it mean for electrical subcontractors?
It means that if a buyer opts for plastic cable ties, clips, and support they must now be supplemented with metal supports.
How can I be compliant with the 18th edition IET wiring regulations?
By selecting suitable cable supports. The regulation cites cable supports made from steel or copper as examples of products that meet the requirements of the regulation. A copper fixing will melt at the same point as the copper cable while a steel fixing can survive to temperatures well in excess of this giving an additional margin of safety.
The practical difficulty with this is deciding how often and where to position metal supports and how to supervise that adequate metal cable fixings are being used. For this reason, it makes sense to solely use metal cable fixings and to be sure of compliance with the regulations.
How to Apply the Regulation in Practice
Spacing of Cable Supports – Note 4 of regulation 521.10.202 which relates to the prevention of risks from cable entanglement in the event of fire states that cable supports should be 'suitably spaced'
'Suitably spaced' should be assessed in the context of each installation and consider the sag effect on cables during fires to make sure they will not become a hazard.
In addition, other regulations within BS7671:2018 that address the suitable support of cables from the aspect of circuit integrity should be taken into consideration.
How can MIDFIX help?
MIDFIX are experts in onsite and offsite supports for the mechanical and electrical industries, delivered through design, engineering, fabrication and industry training.
MIDFIX have been supplying critical on-site and off-site support to the mechanical and electrical industry for over 45 years. Over time our team of experts have developed a deep knowledge and understanding of electrical cable, pipe support and bracketry.
Which Fixings do I need?
Having selected the appropriate fire-resistant supports for the installation it is essential that these are fixed using all-steel fixings. Plastic and nylon wall plugs and similar fixings cannot be relied upon to secure the installation from premature collapse in the event of fire.
With this experience behind us we decided to create a range of innovative 18th edition compliant cable fixings, which keep the installer safe first and foremost and enables them to get their job done as efficiently as possible.
Our wide range of 18th edition compliant key product categories have been summarized below:
Cable Ties: these are used in vast quantities for searching cables and usually made from nylon. Metal cable ties were designed for tougher use in harsh environments and are mostly 316 stainless steel making them expensive for the purpose of 18th edition compliance. The answer is to use MIDFIX Steel Cables Ties – a range of economically priced steel cable ties ideal for securing individual cables or cable bundles and suitable for internal and external use.
Tip – using a tensioning tool with metal cable ties makes it for easier to properly tension the tie and neatly cut off the excess tail.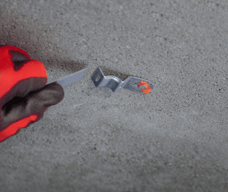 Cable mount 18th edition compliant
Cable Mounts – when replacing plastic tie mounts we have several metal options depending on the preferred installation method. Our patent-pending Firesafe Tie Mounts can be used with all manufacturer's cordless nailing tools for rapid 18th edition compliant installations. Another much faster option than screw fixing is to use our Metal Push Mounts – another great product which is simply pushed into a 6mm hole, so the likelihood of using incorrect fixings is removed.
Discover how the FireSafe tie mount can be easily fixed with a cordless nailing tool such as the Pulsa 800: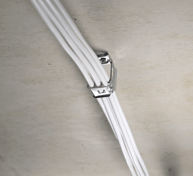 Steel cable harnesses 18th edition compliant
Cable Harnesses – a cost-effective way of installing cable bundles without the need for cable containment. Available in two sizes for wall or ceiling mounting, cables can be easily added or removed as the installation progresses.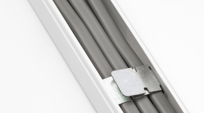 Metal cable clips 18th edition compliant
Cable Clips – Metal Cable clips and Stag Clips can be used as direct replacements for the traditional plastic cable clip. For plastic conduit installations, the conduit needs to be strategically secured with metal conduit clips for which the Safe-D Conduit Clip is ideal. Safe-D U Clips are easily folded metal clips that can be used as standalone cable fixings or for securing cables within plastic trunking.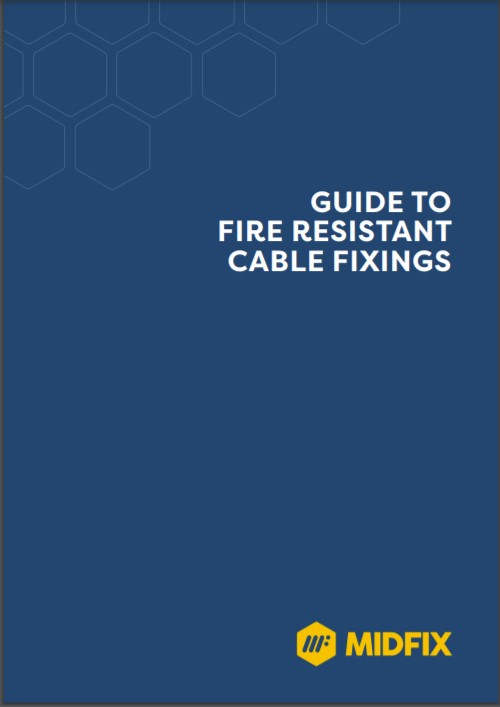 Don't forget once you have selected the most appropriate cable fixings, be mindful that the screws and expansion plugs you use also need to be fire-resistant.