Common challenges facing Mechanical and Electrical contractors and BS 8539 guidance
Mechanical and Electrical contractors are becoming increasingly busy, often having to meet multiple project deadlines with reducing timelines. Standing in their way are several key challenges that can make the difference between meeting a project deadline or failing to meet one.
Two key obstacles;
Stock challenges - ensuring all stock arrives on-site, in-full with the correct product specification and within budget
Installation challenges - all on-site installers have appropriate training to install anchor/bracket assemblies the right way (to BS 8539 standard) first time to reduce the risk of bracket / assembly failure
How can MIDFIX help with day to day stock challenges?
MIDFIX supply over 15,000 products to support the mechanical and electrical industry, we always intend to keep stock-levels high for our core product ranges, some of which are listed below:
We also offer next day delivery through our own fleet of drivers - ensuring that stock availability and delivery should never be an issue with MIDFIX.
Download our latest catalogue and discover our full range.
How can MIDFIX help with on-site installation challenges ensuring BS 8539 standards are met?
BS 8539:2012 guides designers, specifiers, manufacturers, suppliers, contractors, installers and testers of anchors, to ensure a safe and compliant installation. BS 8539 refers to ETA (European Technical Assessment) and recommends specifying anchors within the correct ETA for the given application.
MIDFIX lead the way when it comes to the selection, specification, installation and training of supervisors and service engineers for anchor installation in compliance with BS 8539. We have designed a simple road map that illustrates all of the anchor services MIDFIX offer to ensure all anchor concerns remain BS 8539 compliant.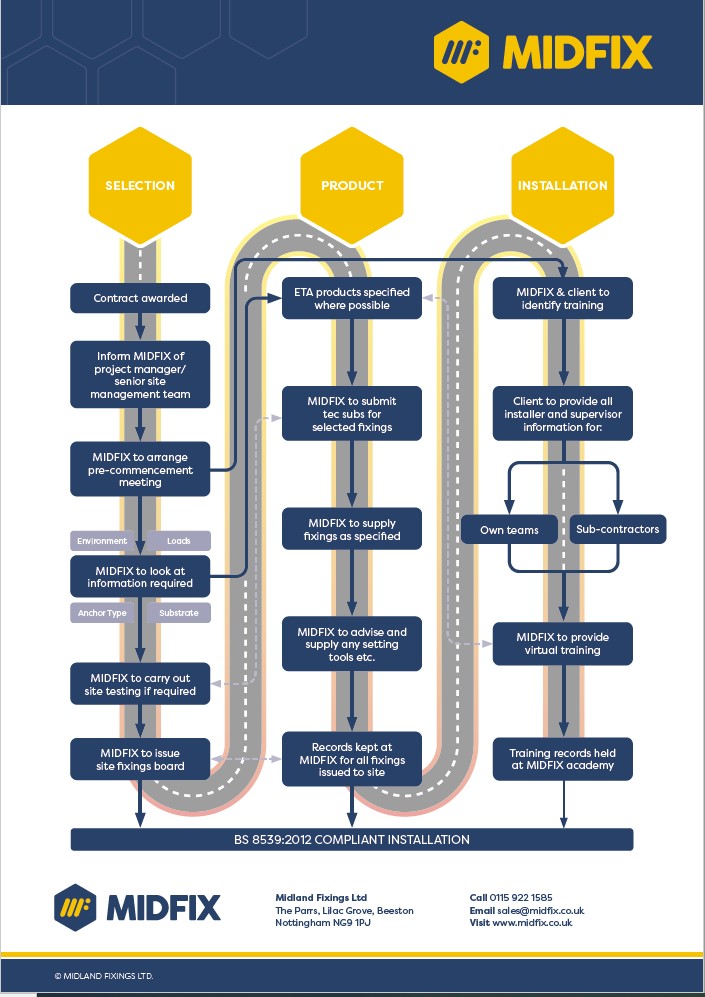 Download and save the MIDFIX Road Map: 0289_MIDFIX ANCHOR ROAD MAP
Anchor services overview;
MIDFIX can arrange a pre-commencement meeting with the principle contractor during the pre-construction phase
MIDFIX and our team of anchor experts will assess all of the information required for the selection of an anchor (in compliance with BS 8539 standard) - analysing the environment, loads, anchor type & substrate
MIDFIX can produce a site fixing board - showing all of the fixings & technical specification on an eye-catching board for easy on-site ordering
MIDFIX can submit technical specification for selected fixings
MIDFIX can supply all anchors on-site with the right setting tool
MIDFIX can keep a record of all fixings issued on-site
Our MIDFIX Academy can provide virtual training to all on-site installers
Training records can be held at the MIDFIX Academy
If you are looking for a single source for all anchor requirements from the initial supply through to installation and supervisor training then get in contact with the technical experts.
FURTHER READING:
Please find our comprehensive guide to BS 8539 and discover how MIDFIX can help you remain compliant.
For all ancohor/fixing requirements simply get in touch:
sales@midfix.co.uk
0115 922 1585
Chat to our customer service team through our live chat service (7am - 5pm Mon-Fri).