It has been over 2 years since the BS 7671:2018 18th edition of the Institution of Engineering and Technology (IET) wiring regulations came into force but there are still those in building services that are not aware of how to correctly select a cable fixing in-line with the standard.
As a supplier of cable fixings and supports electrical installers regularly ask us: is this cable fixing suitable for the latest regulations? In order to answer this and other frequently asked questions around the guidance, we have put together the following article.
What is the 18th Edition Cable Fixings wiring regulation?
18th Edition Wiring Regulations and Cable Supports BS7671:2018 is the 18th edition of the IET wiring regulations and the British Standard covering the design, installation, testing and inspection of electrical installations.
The 18th edition came into force from 1st January 2019 and applies to all fixed wiring installations designed from this date. Background In response to a number of fatal, fire related incidents where persons, including fire fighters, have been entangled by falling cables, the 18th edition has introduced significant changes to the way that cables are fixed. The intent of this regulation is to prevent the possibility of cables collapsing prematurely in the event of a fire and becoming a hazard to evacuation and fire-fighting.
Key highlights:
The Regulation Chapter 52 Selection and Erection of Wiring Systems Regulation 521.10.202 states: 'Wiring systems shall be supported such that they will not be liable to premature collapse in the event of a fire' - the 18th edition introduction makes clear this now applies throughout the installation and not just in escape routes as in the previous edition.
The following notes are particular important for installations:
Note 2: Cables installed in or on steel cable containment systems are deemed to meet the requirements of this regulation.

Note 3: This regulation precludes, for example, the use of non-metallic cable clips or cable ties as the sole means of support where cables are clipped direct to exposed surfaces or suspended under cable tray, and the use of non-metallic cable trunking as the sole means of support of the cables therein.

Note 4: Suitably spaced steel or copper clips, saddles or ties are examples that will meet the requirements of this regulation.
How to select the correct cable fixing?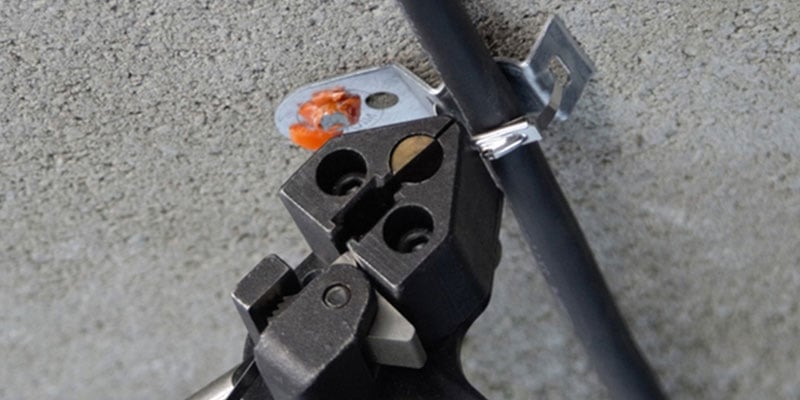 Tensioning Tool in Use Cable Ties – most metal cable ties being used are 316 grade stainless steel, which are designed for use in harsh environments. However, these are costly, hence we launched a more economically priced steel cable tie in different sizes. They can be used for individual cables or cable bundles and are suitable for use internally and externally. Don't forget that tensioning tools are available. They are designed to neatly cut-off excess metal tie.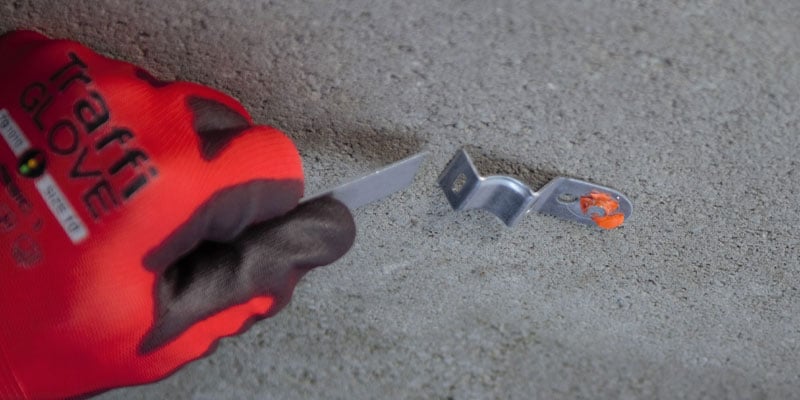 Cable Mounts - When replacing plastic tie mounts, there are a few options depending on the method of installation and the size of cable being fitted. Screw or adhesive-fixed mounts can be replaced with a like-for-like metal equivalent. For faster installation, the metal push mount is ideal, it is simply pushed into a 6mm hole, so the likelihood of using incorrect fixings is removed. Our patent pending firesafe tie mount can be used with all cordless nailing tools - the snap-off tab for holding and positioning the mount during installation means there's no need to change noses.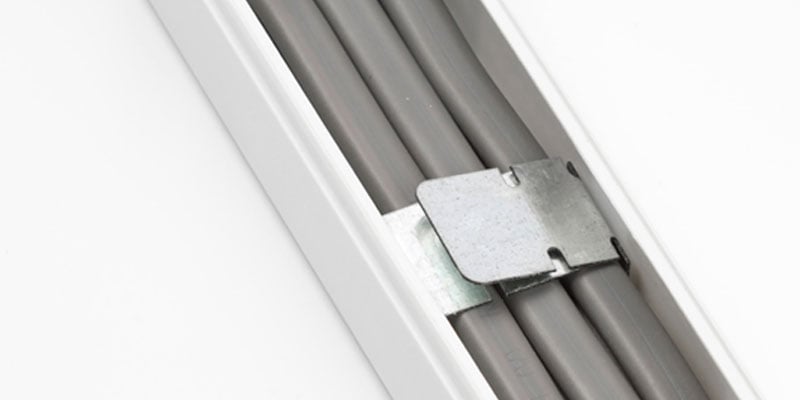 Cable Clips – Metal Cable Clips and Stag Clips can be used as direct replacements for the traditional plastic cable clip. For plastic, conduit installations the conduit needs to be strategically secured with metal conduit clips for which the Safe-D Conduit Clip is ideal. Safe-D U Clips are easily folded metal clips that can be used as standalone cable fixings or for securing cables with plastic trunking.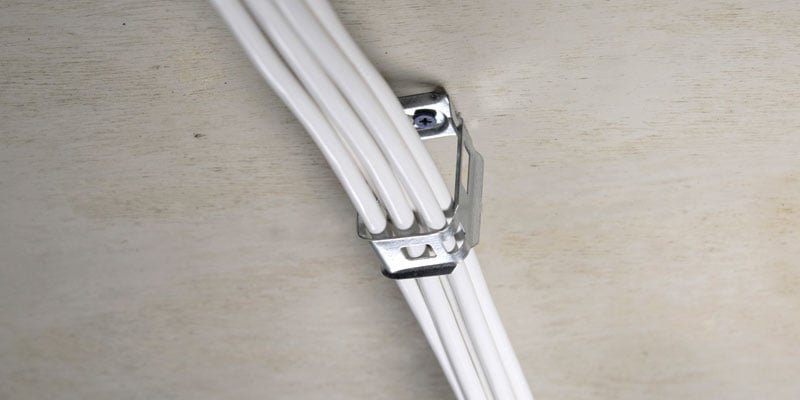 Cable Harness – Metal cable clasps are a cost-effective way of installing cable bundles without the need for cable containment. They are available in different sizes for either wall or ceiling mounting, cables can be easily added or removed during the installation process.
Are Plastics Banned?
Plastic cable fixings and plastic cable management have not been banned. They are still a cost-effective way of managing cables. It's just that they can no longer be used as the sole method of support. Plastic cable ties and clips and plastic cable supports must all be adequately supplemented with metal supports. Once you have selected the most appropriate cable fixings, be mindful that the screws and expansion plugs should also be compliant.
Below you will find a free no-nonsense guide to 18th edition cable fixings.