How can I make sure our anchor installations are compliant with BS 8539?
In our latest sound-out episode Stevan discusses the importance of anchor installation training.
He outlines:
How to install an anchor in compliance with BS 8539?
Why anchor installation training is critical for each and every anchor?
Why it is important to use the correct setting tool for that specific anchor?
One of the most popular anchors purchased in the M&E industry, is the deformation-controlled anchor (commonly known as drop-ins). Unfortunately, the majority of them are installed incorrectly.
On-site anchor installation failure is commonly down to three issues
Anchor installation - BS 8539 guidance
BS 8539:2012 states that anchors should be installed and supervised by competent individuals. BS 8539 defines competent as:
"Suitably trained and qualified by knowledge and practical experience, and provided with the necessary instructions, to enable the required task(s) to be carried out correctly".
BS 8539:2012 states that testing is not required if an ETA anchor has been used and installed and supervised by competent/trained individuals.
ETA guidance can help installers, manufacturers of anchors will put an indentation mark (often referred to as a witness mark) on the rod, this is easily visible by undoing the rod after installation - an on-site auditor will then know if a fixing has been correctly installed.
Why is anchor installation training critical for each and every anchor?
Quite simply every anchor is manufactured differently and has different installation instructions although they may look the same each anchor performs differently.
If an installer is not aware of how to correctly set an anchor or the right way to use a torque wrench then it is highly likely anchor installation failure will occur, potentially leading to on-site bracket assembly collapse. Resulting in missed project deadlines, project costs rising, and potential harm to individuals on-site. As well as the quantifiable costs, ultimately anchor installation failure can also lead to loss of earnings for the subcontractor due to a damaged brand reputation.
Minimise the risk of anchor installation failure by training the installer and the supervisor.
Why it is important to use the correct setting tool for that specific anchor?
Every anchor has a recommended setting tool ensuring an anchor can be set correctly. If you do not use the correct setting tool as outlined in the anchors' manufacturing guidelines then it could lead to anchor installation failure.
As an example, from a manufacturer's point of view, if there is an anchor installation failure on site and you have not used a torque wrench, typically used to install throughbolts, then you have not installed the fixing under the manufacturer's guidelines. Therefore, the installation is not compliant with BS 8539 standards.
The majority of anchor installation failures occur due to an installer not choosing the right as outlined in the manufacturer's instructions or simply not knowing how to use one correctly.
Toolbox Talk
To ensure wedge anchors are correctly set use only the setting tools supplied by the manufacturer. Using an SDS setting tool generally achieves better results than can be achieved by hand especially in overhead situations.
Every make and size of an anchor has a specific setting tool to use to ensure compliant installation.
Overall, understanding how to correctly install an anchor takes time and if not done correctly can lead to costly consequences.
How can MIDFIX help?
Discover our comprehensive range of ETA approved ceiling anchors, throughbolts, and thread-cutting anchors. We also supply a wide range of shield, sleeve, heavy-duty and chemical anchors available for next day delivery.
Upskill and support installers and supervisors with The MIDFIX Academy:
✔ Training courses aimed at all levels, from the main contractor to the installer
✔ Anchor installation and supervisor training
✔ Simple sign-up process
✔ Contractor installation accountability
✔ Complete flexibility – learn whenever it suits you
The MIDFIX Academy is the only specialist training and technical resource to upskill and support installers and supervisors in the M&E sector.
Let MIDFIX take care of your anchor policy from initial anchor selection all the way through to installation training. Illustrated below are all the anchor services MIDFIX offer to ensure all stakeholders are compliant to BS 8539.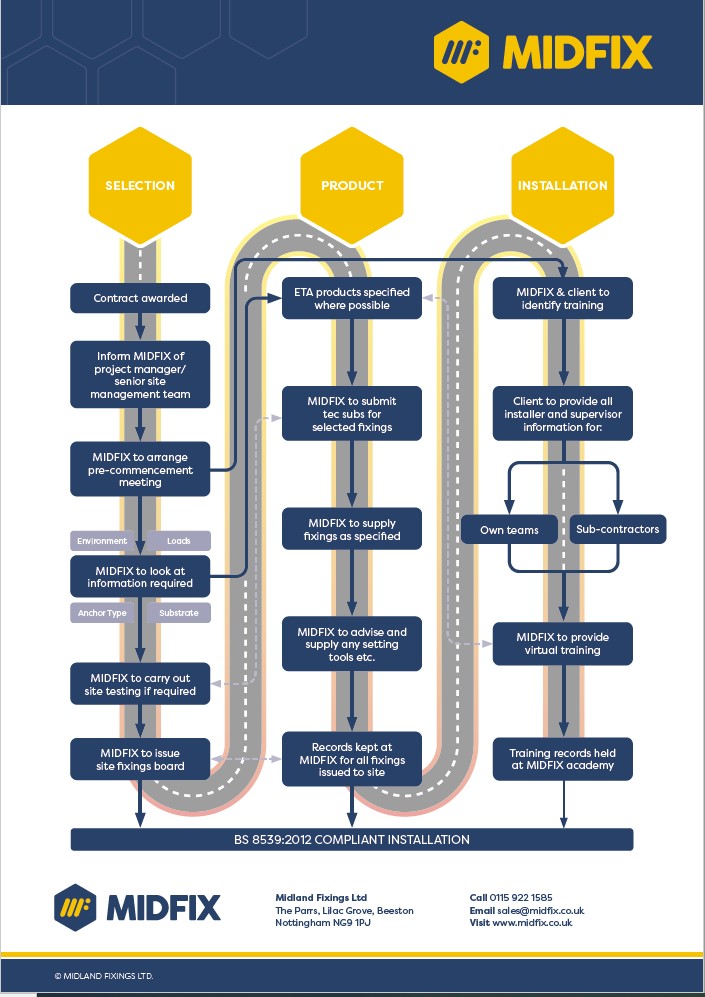 Need help finding the right anchor?
Call the sales team on 0115 922 1585 or email: sales@midfix.co.uk or chat to our expert customer service team online for specialist advice.