Quite possibly the biggest change within construction over the past 60 years, has been the introduction of Computer-Aided Design (CAD). After the introduction of CAD, designing buildings became more efficient, accurate and faster. Building models that were once drawn by hand, are now designed on pieces of software within a matter of hours.
With technological innovations continuing to evolve within the built environment, can CAD help the M&E contractor achieve a quality M&E installation on time and within budget?
In this podcast we speak to two senior design CAD engineers, Skye Jennings and Tom Smith to answer just that.
We also look to provide answers to the following questions:
What design software is typically used and how does it help an M&E contractor?
Why do M&E designs go through so many iterations?
Is it possible for BIM to be the solution?
How would communication and early engagement help reduce design iterations?
How can M&E contractors help the process?
Are there any emerging technologies that could impact the design of service supports?
Are there any unseen external factors that are commonly overlooked which may impact a full design?
Q1.) What design software is typically used and how does it help an M&E contractor?
As we are primarily working in 3D space, we draw our models in 3D CAD. We usually find that M&E contractors provide drawings in a variety of software – AutoCAD, Autodesk Inventor, Solidworks, Revitt, but often once an M&E project is over a certain size then a Navisworks model becomes the industry standard.
Revitt and Navisworks software have made the biggest impact on the quality and delivery time of an M&E installation. For the contractor on-site, it is best to work with Navisworks models because in most cases these models enable us to see everything in the surrounding environment to detect clashes. Clash checking is commonplace within an M&E installation, therefore a Navisworks model helps us to design and manufacture a support that can be installed in the correct place. Ultimately, accurate models reduce the likelihood of multiple design alterations shortening the time it takes for an M&E contractor to receive our support frames.
Q2.) Why do M&E designs go through so many iterations?
This is due to the nature of an M&E project. Typically, there are many different contractors on-site with different installation deadlines, on top of this, commercial factors such as price increases and supply chain volatility can mean different components are purchased, resulting in design changes.
To give an example, a certain brand of AHU originally specified for a project may not be available due to commercial issues, this would mean a complete change in the design with a change in hole patterns, fixings, sizes and weights.
Q3.) Will BIM help to reduce the time between design and delivery?
The UK government believes that one way to improve the efficiency, cost and safety of construction projects within the UK is by implementing a BIM framework (Construction Playbook 2020). With many within the industry aspiring to work within a BIM framework, it is unlikely to have the necessary positive impact without better engagement between all contractors on-site and their respective supply chains.
Q4.) How would communication and early engagement help reduce design iterations?
Early and continued engagement with the contractor is critical. Installers are often four or even five tiers down from the main contractor and they may not even have a Navisworks drawing to work too, this will mean that they won't know how other services would interfere with their installation. If there is free-flowing communication between the principal contractor, the architect, main contractor, subcontractors (installers) and the M&E support services supplier then any likely changes on-site can be communicated earlier on in the process so design iterations are not required further down the line.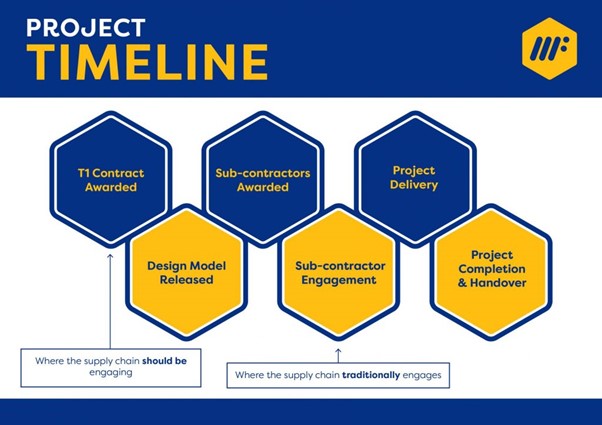 Q5.) How can M&E contractors help the process?
M&E contractors can help us reduce the time to create a design, by firstly providing us with a suitable model and secondly by communicating with us any changes on-site that would impact that design.
In a worst-case scenario we receive a 'fag packet' drawing. A 'fag packet' drawing is not fit for purpose, as it isn't a 3D model, it is unlikely to have accurate dimensions or critical information such as load paths which would impact the bracket, we are designing supports for. We would always prefer a Navisworks, Revit, DWG or step file drawing.
Our preference would be a Navisworks model as they take into consideration the whole environment enabling us to detect clashes and meet any necessary regulations. This will allow an M&E installation to be completed in a much shorter time.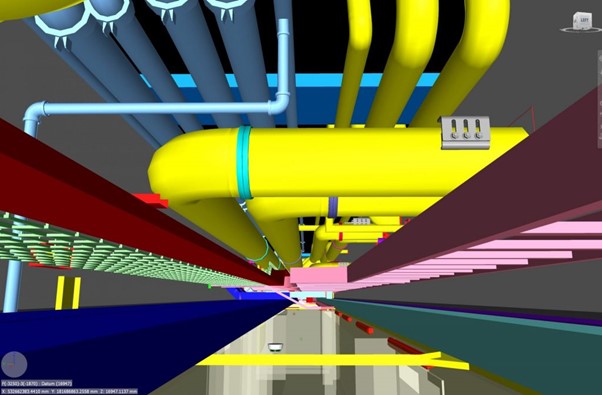 Navisworks model example
Q6.) Are there any emerging technological innovations that could impact the design of service supports?
There are several exciting types of technology utilised within the industry. For instance, highly accurate 3D scanning using augmented and virtual reality integrating with BIM can be invaluable. For example, a few sites use AR with Revitt and are trialing the software with Microsoft HoloLens.
This technology enables the user to visualise, within a couple of millimeters accuracy, the location of services before they are installed, resulting in more accurate designs and installations. The main barrier to this technology is cost, as installers on-site are unlikely to have the finances available to purchase the equipment and therefore won't be able to benefit from this technology.
In one project we had a Revitt Navisworks model but it wasn't accurate. The site had concrete dishes but had been set differently on site to what the model had shown. This was critical as we were fixing a load of supports onto concrete, after we managed to receive a full 3D scan of the site, and imported that into Inventor, we could accurately design a support to the mm, when you need this level of accuracy, the technology is invaluable.
Q7.) Are there any unseen external factors that are commonly overlooked which may impact a full design?
As the M&E industry becomes ever more litigious, compliant installations matter. To be compliant, evidence is required to show that any support supplied to site is fit for purpose. For an M&E contractor having that evidence is important, if, factors on-site change, for example, with a last-minute component change then a new design must be drawn. With the increasingly tight deadlines for project delivery, M&E contractors will be looking to try to limit any changes that could result in a design iteration.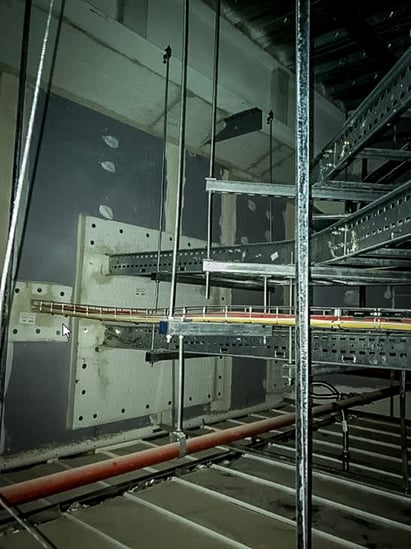 Parasitic loading
Another common issue within the M&E industry is parasitic loading, this is where an installer comes in after a bracket has been installed and fixes (piggybacks) more supports of the bracket. This is a problem because once a bracket has been signed off to safely support the load-bearing capacity of a particular service load and then more services are added to the bracket, this immediately compromises the load bearing capacity. In this situation, a new bracket must be made, with a separate load calculation to take into consideration the extra load.
Lack of early engagement
In many cases, the complexity and limited communication with the whole supply chain often leads to design iterations. With complex M&E installations, the earlier the supply chain engages with a project, the more likely supports can be designed and manufactured fit for purpose.
What are the top requirements from a design perspective?
Early and continued engagement so that design changes can be made where necessary.
An accurate model of the building showing the whole environment to detect clashes.
Having up-to-date and accurate information to hand.
Conclusion
There will always be external influences, dictated by market conditions, that will impact the delivery of a project. However, with early and continued engagement between different stakeholders within the supply chain, and appropriate design models to work from, accurate designs can be produced, enabling M&E contractors to deliver projects on time.