If you're a potential or existing client considering enquiring with MIDFIX about designing and fabricating a product, you probably would like to know the process that precedes and succeeds this, the stages that take place throughout, and how involved you have to be at each one.
If so, you're in luck! We've summarised the DfMA project process for better understanding in this article. Keep reading and click on the links below to navigate:
Fact-finding
As one would expect, for there to be any project, an enquiry must be made. After this is where you, the client, play an imperative role because you need to provide us with all the information needed.
Clients are rarely forthcoming with all of the required information, which is understandable because you probably don't know exactly what is needed – which is why we are responsible for getting as much information out of you as we can!
When you request the product, you have to identify first what you're expecting – are you simply looking for a design, or a design as well as a fabrication? At the end of this project, when it's all finished and signed off, what exactly are you expecting as a final product to have received from us? Is it an AHU support frame, trapeze brackets, etc.? Is it meant for indoors or outdoors? Does it need to be hot-dip galvanised? Does it need to be stainless steel? A lot of this information would be filled out in a Technical Request (TR) form.
The form is intended to acknowledge and account for everything required to get the design 'Right First Time'. Additionally, if the Tier 1 contractor or any structural engineer at site level specified that the project has specific calculation requirements, let us know what exactly they are. From that, we can determine what level of calculation you'll actually need.
If it hasn't been specified, we often find that clients usually ask for the most detailed (and expensive!) structural analysis including a full report with method explanations, simply because they didn't know what exactly they need – but in most cases, this isn't a necessity and is, therefore, a waste of money. So try to avoid this mistake!
Sometimes the basic load calculations will be enough, depending on the project. In these cases, our job is to educate you on the different types of calculations so that we can identify which one you'll need. You should also think about the materials – are there any limitations/requirements on what can be used based on what's specified, or your budget? You should also address if there are any components/lengths already on-site, or if anything has been installed prior.
Lastly, you'll of course need to let us know a deadline/timeframe expectation for when the solution should be ready so that we can aim for that and deliver accordingly. Are there any non-negotiable dates we need to work around, for example, an arranged crane lift that can't be moved? The fabrication team then estimates how long it would take based on past experience and projects, allowing a minimum of one hour of design time even for simple projects. Our internal account contact would get in touch with you to gather all this information, but it's worthwhile being prepared.
Detailed design
After the TR form is sent to the Engineering department and all questions are answered, they will deliver a detailed design that aims to be done 'Right First Time', and this will be sent to a sales representative for feedback from you.
The design involves a basic idea of what you'll get bespoke to your requirements mentioned in the first stage. This includes the basic information such as the dimensions, load data, contact points, etc., and a visual layout of where everything goes together and how the solution will look at the end. To make sure the design is effective, some basic checks and calculations will usually be done at this stage.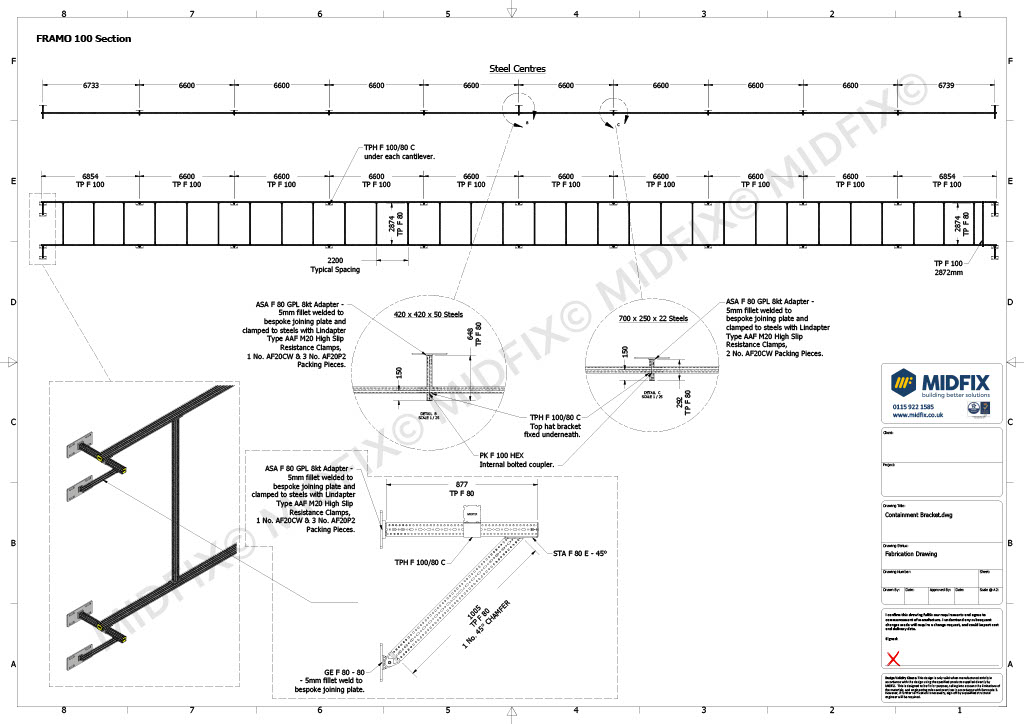 Proposal
Following the design phase, a proposal/quotation is drawn from the component breakdown of the design. This is also when you would be presented with the design for your approval, as well as the cost of the solution. The cost can be attributed to several factors, namely: design time, calculation time, and fabrication time. The design and fabrication time is usually calculated hourly. Fabrication prices range from £63.00 to £77.00 an hour, depending on the complexity and cost. Design and calculation cost £69.00 and £99.00, respectively.
Sometimes, however, if the client is also asking for fabrication, then the cost of the design and/or fabrication time will be worked into the price of the final delivered bracket, as opposed to being charged per hour. It depends largely on what you prefer. How many hours will be needed is entirely dependent on the project.
In terms of calculations, these cost £99.00 an hour. If you do require them, bear in mind that the more complex the calculation reports are, then obviously more hours will be required and therefore the cost will increase. This is why you should think about the exact type of calculations you'll need before asking for them. A full structural analysis calculation with engineer signoff might be needed for something with a 3D dynamic element, such as wind loadings, and any complex designs and structures – but the majority of the time, you won't need it.
You or your tier 1 contractor might request a more basic structural analysis to indicate displacement, bending/shear stresses, plastic deformation, etc. for structures like AHU frames, pump skids, and tank bases. In contrast, basic load calculations, which prove the designs are 'fit for purpose' through validity checks, can usually be achieved using much less time and money- but you don't need to request these as they're done automatically.
Feedback and revision
After you've taken a look at the design, we would expect to hear some feedback from you. The project manager (PM) will ensure regular contact with you. We need to know whatever comments you may have, if you think there should be some amendments to the initial parameters used to create the design, if anything else has crept up or changed since then that we should take into account before fabricating, or if we've missed something – basically, are you happy with it and if not, why not? Are you happy with the price? This will be our 'OK' to go ahead to the next stage which is when the order is placed and additional information such as timescales and delivery instructions will be sent to the PM. If not, then those changes will be made to fit your requirements until you are happy to place the order.
Calculations and final sign-off
Once you are satisfied and have made the purchase order, this is the stage in which the previously explained calculations would actually take place. After the order is placed is also when the point of contact with the clients changes from being the internal account contact to the PM. The PM will take into consideration all your requests and handle them appropriately.
Depending on the outcome of the calculations, there may need to be further revisions which will have a knock-on effect of altering the overall design and possibly the proposal as well. If there are any changes, we would resubmit a proposal; if there are no changes in prices, we would just resubmit the detailed design for you to sign off and approve (the PM liaises this). The fabrication and installation drawings would come after the final sign-off because they're often time-consuming, and sent straight to the workshop, which takes us to our next stage…
Fabrication
Just before the fabrication stage, both the PM and the workshop manager will begin to check the bill of materials for any missing materials or something of the sort. These two work together to keep track that the requirements are still being met. Sometimes the workshop will make practical alterations to the design based on experience and best practice, and any of these would be relayed to you by the PM for your approval.
Aside from this, there are a few things to check off before and during fabrication: checking all the drawings, a 'job card' is raised in the workshop, agreeing on timescales with the PM, picking the materials/components, allocating the job into the workstream, taking into account any bespoke or specialists or bespoke parts required (e.g. welding, galvanising, laser cutting, power-coating, bending, punching, etc.), and finally, carrying out the fabrication. The customer/sales and commercial teams should also be staying informed every step of the way.

Delivery/transport
Prior to packing the bracket for transport, it will have to go through quality assurance to triple check everything. Better to be safe than sorry! There are a few things to consider that can all impact what type of transport you need – of course, preferably these would have been thought out in the starting stages, with the transport team being engaged early so that the adequate transport is arranged on time.
But also, because it could indirectly affect the cost/proposal or the design. For example, if you need a particularly large frame which to be delivered on a specialist vehicle like an articulated truck, this would cost more than double a regular truck (used to deliver modules) – so this would be factored into the quotation.
Equally, in some cases you can't get modules longer than a specific length, say, 3 metres, into a building – so instead of designing and fabricating the full bracket, we would design it out of lengths shorter than that and join them together. Sometimes, like with vertical risers, there may be wide loads with movement orders – which is when the driver can only drive down certain routes because of the width of the vehicles - and this needs approval from council and police, etc. We would also look at what equipment is available to offload the solution, where does it need to get to in the building, and whether you need to arrange a crane lift. If we do, the vehicle would need to be a flat-bed lorry instead of a curtain side vehicle.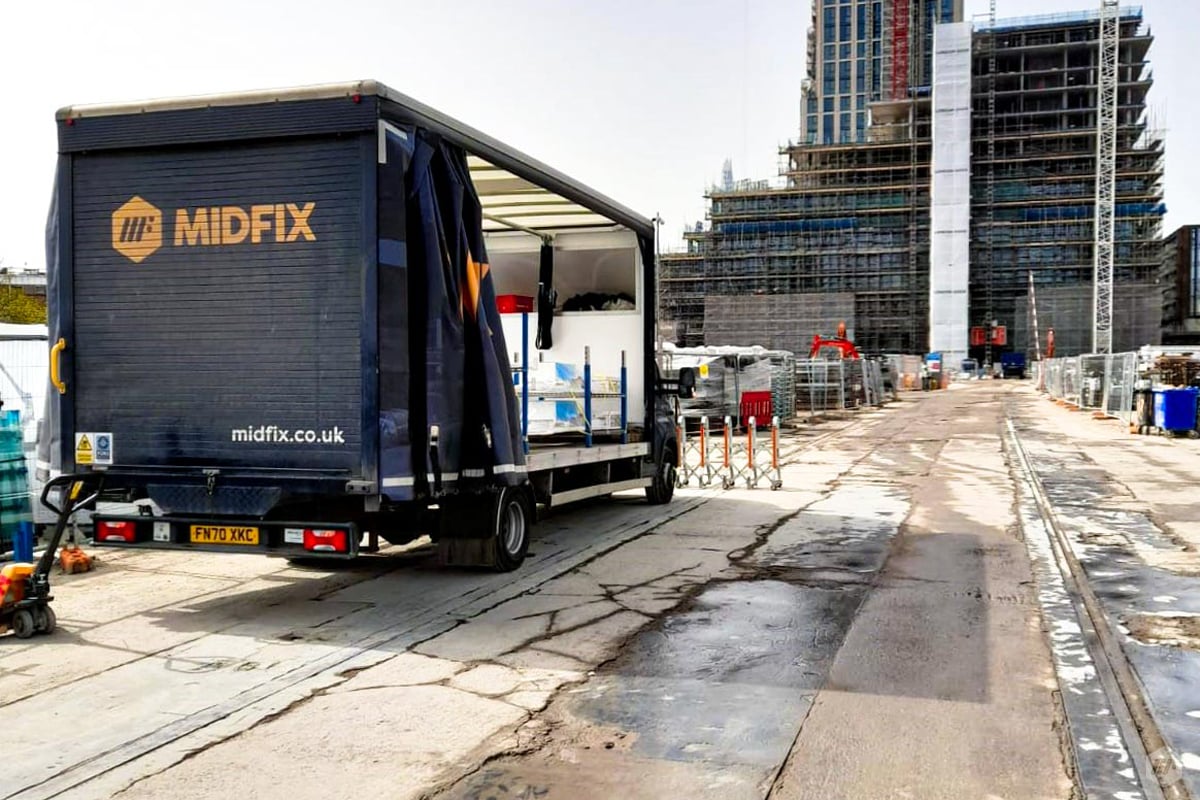 Conclusion
I hope that this article has given you comprehensive grasp on what entails each stage of MIDFIX's DfMA project process, and that you're feeling more confident and aware of our responsibilities as well as yours which will, in the long run, help your projects run smoothly in the future.